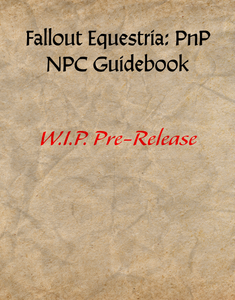 Dead Tree Studios
NPC Book W.I.P. - Digital Download
Regular price
$0.00
$0.00
Unit price
per
Things are busy and hectic all around, and because of that we decided that instead of waiting and delaying our promised NPC Book until after we can finish dealing with more pressing matters, we would give you the Work in Progress of what is done on the NPC book.
So what do you get? A little over 90 pages of pre-statted NPCs including raiders, Zebra Remnants, Enclave, Steel Rangers and more!
But what's missing? A lot. Many of the factions in this WIP are missing a large swath of NPCs that have not been formatted yet. There are also a number of factions missing entirely including, but not limited to: Townsponies, Ghouls, and the Followers of the Apocalypse. The Factions that *ARE* in the W.I.P. book are also missing their lore and flavour-text. But what is in the book are fully statted, fully functional NPCs for you to throw into your world. So please enjoy it while we continue to work hard to bring you the gaming experiences you enjoy and deserve!
---
Share this Product
---