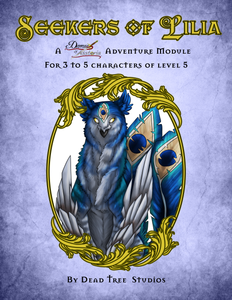 Dead Tree Studios
Seekers of Lilia Adventure Module - Digital Download
Regular price
$9.99
$0.00
Unit price
per
The town of Lilia is under siege from a large flock of Seekers. Chimera known to bring misfortune and disaster wherever they go. Can you and your party drive them away before the town is wiped off the map?
Enjoy a one shot adventure module for a party of 3-5 level 5 characters as you discover the source of the problems besieging the town or protect it in a gruesome battle. Average adventure time of 4-6 hours, Includes battle maps, tokens and pre-gen characters.
Included in this book is expanded lore on the Countship of Celeres. The region of the Kingdom of Asstoria in which this adventure takes place. 
---
Share this Product
---